Candidate Forum Tonight
A Candidate Forum featuring primary election candidates running for Seattle City Council District 7 will be held on June 20, 2019 at the Magnolia United Church of Christ. Pilgrim Hall will open at 6 p.m. with Forum candidate presentations running from 6:30-8:30 pm. The Forum will include short presentations from each candidate and community-focused questions on the upcoming elections. All members of the community are encouraged to attend to hear, see and question the candidates. The Candidate Forum will be held at: United Church of Christ – Pilgrim Hall (enter from Eastmont) 3555 W. McGraw Seattle, WA 98199
This event is co-hosted by the Magnolia Community Council and the Queen Anne Community Council. There will be free (donations accepted) onsite childcare offered for the forum.
Give Blood Today!
A Friendly Reminder! Bloodworks is on site, Monday, June 17th for Magnolia Community Bloodmobile at Our Lady of Fatima.

APPOINTMENTS ARE RECOMMENDED! Currently they have 10 with 29 appointments open.
Click here to make an appointment. (Select whole blood). OR call 1-800-398-7888. Mention group number 1085, Magnolia Community, for Monday, June 17th.
The need for blood is always there, especially this time of year.
Please consider sharing your good health!
Monday, June 17th
Magnolia Community Blood Drive
Bloodmobile parked in Our Lady of Fatima parking Lot
1:00 PM to 7:00 PM
(closed for a staff lunch break 3-4pm)
Sponsored by Our Lady of Fatima Knights of Columbus
FINALLY, PINK SALT Shhh…soft opening
By reporter Steven Smalley
The old Szmania's location at 34th and McGraw is open for business, but don't tell anyone. Corino Bonjrada, owner of Mondello Ristorante Italiano, and his wife, Ana Sofia Ponce de Leon opened the Peruvian inspired Pink Salt restaurant in the Village Friday night. A lively crowd already occupied the space that smelled of smoky flavors infused into one of the South American dishes. We could go on and on, but no. It's a soft opening. Let's not over-hype the place.
This reporter had ceviche to start and a sliced beef tenderloin entrée Peruvian-style. Add to that a Peruvian-influenced Manhattan and the meal was complete.
Okay, that's all you'll get from us. Except, notice the wall of lighted Peruvian pink salt bricks lining the back-bar. It makes a real statement as you come in the front door. Enjoy.
Magnolia Bridge Meeting Tonight
SDOT is hosting a community engagement meeting to share the planning study results and answer questions on Thursday, June 6, at Catharine Blaine K-8 in the cafeteria, from 6 to 7:30PM.
From SDOT:
With cost estimates spanning from $190M to $420M, bridge replacement and alternative options considered in this study far exceed available Seattle Department of Transportation funds without significant outside investment from our State or Federal partners.
First, ongoing maintenance and inspections of the Magnolia Bridge continue in coordination with the Port of Seattle. We perform regular maintenance, frequent inspections and 24/hour monitoring to ensure safe use of the Magnolia Bridge. That doesn't change.
Second, the Levy to Move Seattle funds a ten-bridge study to help us assess and manage roadway structure maintenance needs and maximize future investments. The Magnolia Planning Study was the first of the 10 assessments to be completed. The studies are a part of our effort to better understand the size of Seattle's maintenance backlog, which requires long-term attention. We'll be launching the Ballard Bridge Planning Study later this spring.
Lastly, we'll continue to work with the community and elected officials to be creative in examining funding opportunities for the Magnolia Bridge. We'll also be launching the Ballard-Interbay Regional Transportation system study pending confirmation of state funding.
For additional details about how the study was conducted and how community input was considered visit the Project Library.
Email us with questions at magnoliabridge@seattle.gov or subscribe to receive occasional project updates.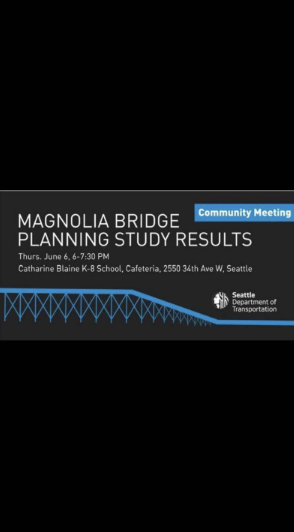 Clean Up! Clean Out! Saturday
Join Windermere Magnolia's Community Service Day event this Saturday and Clean Up! Clean Out!
Windermere staff will be on hand to help you load your . Saturday, June 8 from 9-1 on 33rd Ave W between W McGraw and Wheeler Street
Bring your papers to shred, clothing to donate, and electronics to recycle. In addition to an on-site shredding truck, we will have an electronics recycling truck collecting old computers, TV's, monitors, printers, cameras, cell phones, batteries, small appliances and more.
There will be a Good Will truck onsite to collect used adult clothing and undergarments. Now is the time to get a jump start on your spring cleaning!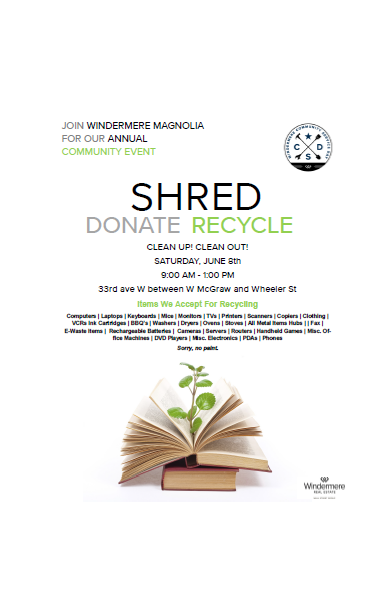 Blaine Carnival Friday
All are invited to help kick off the summer season in Magnolia with rides, games and live music! Invite your friends–this Friday, June 7th 5:30 to 8:30pm.
Come one, come all!! Help us celebrate another great year for our beloved Catharine Blaine K-8 school in the heart of Magnolia.
This annual event and fundraiser is open to the entire Magnolia community; invite your friends and neighbors. Come and enjoy a fun evening filled with games, rides, activities, food, treats and a ton more fun.
Check out live music by local band, Those Guys, who will fill the carnival with their amazing covers of pop and rock hits. 
Avoid lines and save money by purchasing tickets in advance via this site. 1 Ticket = $1. Pre-purchase is available in bundles of $20. For each pre-purchased bundle, you receive 23 tickets. Skip the lines and buy your tickets in advance HERE.
Access to carnival games, inflatables, rides, souvenirs and snacks are exclusively through tickets. Activities range from 1 ticket for simple games up to 5 tickets for the professional carnival rides and inflatables. Sodas, water and candies range from 1-2 tickets.
Food can be purchased separately with cash/credit from one of the amazing food trucks.
This Carnival is the last major fundraiser this year for the Catharine Blaine PTA. Would your family or business like to help? Click HERE.
Help is needed at the event too. This is a great opportunity for High School students who may need community service hours! Please click on the Sign Up Genius HERE.
If you have questions, please reach out to our Carnival Chairpeople:
Brian Matsubara, brian.matsubara@gmail.com
Jen Arterburn & Jake Milstein, jenjake@gmail.com