All Seattle Public schools Closed Starting March 12
Catharine Blaine, Lawton and Magnolia Elementary to close for a minimum of 14 days
From SPS:
Together, we are facing an unprecedented health crisis in our community. In our response to COVID-19, we must depend on the wisdom of our health experts and elected officials and lean on the resolve of our strong community.
We have been following the guidance of Public Health Seattle and King County and implementing preventive and responsive strategies, but in light of Governor Inslee's request that all citizens practice measures to slow the spread of COVID-19, it is now time for the district to act swiftly.
Starting Thursday, March 12, Superintendent Denise Juneau and the Seattle School Board will close Seattle Public Schools for a minimum of 14 days as the Center for Disease Control and Prevention (CDC) currently guides. This necessary action is an effective way to disrupt widespread infection.
Beginning Thursday, March 12, all school building activities including school day instruction, childcare, health services, enrichment, etc. are canceled until further notice. Wednesday, March 11, childcare and extended day supports will continue as planned. We have an emergency food plan which will be put into place on Monday, March 16. More information will be provided by Friday, March 13.
The decision to close the district was extremely difficult. We know that closing our schools will impact our most vulnerable families and we recognize that working families depend on the consistency and predictability of supports and services our schools offer. We are working with partners and the city to determine how to best mitigate the impact closing schools will have on working families.
We also recognize there are still a lot of unknowns about this disease and just how prevalent it is in our community. Yesterday, we had our first staff member confirmed with COVID-19. As testing becomes more readily available, these cases will increase. While children appear to be more protected from extreme symptoms, adults, including our educators and employees, need support and protection as well.
As we have shared many times, our goal has been to keep our doors open as long as possible in order to support our students and the entire community. Our incredible school staff, school leaders, and central support staff have been unwavering in this commitment. We appreciate their service to our community, children, and families.
It is in times like these that our community values become visible. Please take care of each other. Reach out to neighbors and lend a hand to those in need. We will get through this, but it will take all of us thinking creatively and continuing to support our community's children.
The superintendent will continue to stay in conversation with the city, state, and local officials, and partners as our entire region responds to new guidance and a call to take an active role combating COVID-19.
More information will be communicated Thursday, March 12, to all families. Please check the Coronavirus 2019 Update webpage for new information.
Click here for resources:
Seattle Public Schools COVID-19 FAQ
Seattle Public Schools Letter and Video Archive with Transcript Translation
Don't Miss Fatima's Fall Festival this weekend!
The 2019 Fall Festival is THIS SATURDAY, Oct 5, from 6-9pm, in the school parking lot and will take place rain or shine! The entire community is invited, so bring your friends, neighbors, and family for carnival games, rides, crafts, and a cake walk! There will be family food and drinks for sale, as well as a beer garden (21+). Worried about missing the UW-Stanford football game? You can watch it in the beer garden beginning at 7:30pm (the Cougs have a bye this weekend).
Welcome Summerfest!
Magnolia's annual celebration. We are so excited to see you there!
Friday 8/2
2:00 Bounce houses open
2:30 Beer Garden open
9:00 MOVIE ~ "Mary Poppins" (1964)

Friday Stage
1:15 "DRAVUS"
2:00 "Noise Died Young"
3:00 "Woodstock at 50 tribute"
4:00 "Midwest"
5:00 "Mother of Pearl"
6:00 "Infinity Project"
8:00 "Soul Purpose"
Saturday 8/3
10-10:30 Kid's Parade
10:30 Magnolia Summerfest Seafair Parade

11-8 Vendors/Bounce houses open
11-6 Toy boat building/racing with Center for Wooden Boats
11-2 Kid's games with the Girl Scouts
11-2 Kid's Arts & Crafts hosted by Illumination Learning Studio
2-4 Arts/Crafts/Relay Races
Saturday Kid's Stage
12:45-1:30 Alleyoop Musical Games and Puppets (Al Hirsch)
2:15-2:50 Zero & Somebuddy Performance
3:45-4:30 Seattle School of Rock
Saturday Stage
8:30 Barre3 class
12:00 "SixFoot Savage acoustic"
1:30 "Left Hand Smoke"
3:00 "Daydreamers"
4:30 "Skinny Blue Band" – blues/rock
6:00 "Washed in Black" – Pearl Jam tribute
8:00 "Prom Date Mix Tape" – 80's New Wave covers
Sunday 8/4
11:00 Vendors/Bounce houses open
11:00-2:00 Kid's Arts & Crafts hosted by Illumination Learning Studio
11:00-4:00 Toy boat building & racing with Center for Wooden Boats
2:00-4:00 Arts/Crafts/Relay Races
Sunday Kid's Stage
12:15-12:45 Zero & Somebuddy Performance
1:15-2:00 The Not-Its
2:30-3:00 Alleyoop Musical Games and Puppets (Al Hirsch)
Sunday Stage
9:00 Zumba class
10:45-12:15 Talent Show
12:45-1:30 "Mary & the Rave"
2:00-2:30 PetPros Pet Fashion Show
3:00-5:00 "Hit Explosion"
5:00 Festival ends
Outdoor Movie
The 1962 original movie "Marry Poppins" starring Julie Andrews
Candidate Forum Tonight
A Candidate Forum featuring primary election candidates running for Seattle City Council District 7 will be held on June 20, 2019 at the Magnolia United Church of Christ. Pilgrim Hall will open at 6 p.m. with Forum candidate presentations running from 6:30-8:30 pm. The Forum will include short presentations from each candidate and community-focused questions on the upcoming elections. All members of the community are encouraged to attend to hear, see and question the candidates. The Candidate Forum will be held at: United Church of Christ – Pilgrim Hall (enter from Eastmont) 3555 W. McGraw Seattle, WA 98199
This event is co-hosted by the Magnolia Community Council and the Queen Anne Community Council. There will be free (donations accepted) onsite childcare offered for the forum.
Give Blood Today!
A Friendly Reminder! Bloodworks is on site, Monday, June 17th for Magnolia Community Bloodmobile at Our Lady of Fatima.

APPOINTMENTS ARE RECOMMENDED! Currently they have 10 with 29 appointments open.
Click here to make an appointment. (Select whole blood). OR call 1-800-398-7888. Mention group number 1085, Magnolia Community, for Monday, June 17th.
The need for blood is always there, especially this time of year.
Please consider sharing your good health!
Monday, June 17th
Magnolia Community Blood Drive
Bloodmobile parked in Our Lady of Fatima parking Lot
1:00 PM to 7:00 PM
(closed for a staff lunch break 3-4pm)
Sponsored by Our Lady of Fatima Knights of Columbus
FINALLY, PINK SALT Shhh…soft opening
By reporter Steven Smalley
The old Szmania's location at 34th and McGraw is open for business, but don't tell anyone. Corino Bonjrada, owner of Mondello Ristorante Italiano, and his wife, Ana Sofia Ponce de Leon opened the Peruvian inspired Pink Salt restaurant in the Village Friday night. A lively crowd already occupied the space that smelled of smoky flavors infused into one of the South American dishes. We could go on and on, but no. It's a soft opening. Let's not over-hype the place.
This reporter had ceviche to start and a sliced beef tenderloin entrée Peruvian-style. Add to that a Peruvian-influenced Manhattan and the meal was complete.
Okay, that's all you'll get from us. Except, notice the wall of lighted Peruvian pink salt bricks lining the back-bar. It makes a real statement as you come in the front door. Enjoy.
Magnolia Bridge Meeting Tonight
SDOT is hosting a community engagement meeting to share the planning study results and answer questions on Thursday, June 6, at Catharine Blaine K-8 in the cafeteria, from 6 to 7:30PM.
From SDOT:
With cost estimates spanning from $190M to $420M, bridge replacement and alternative options considered in this study far exceed available Seattle Department of Transportation funds without significant outside investment from our State or Federal partners.
First, ongoing maintenance and inspections of the Magnolia Bridge continue in coordination with the Port of Seattle. We perform regular maintenance, frequent inspections and 24/hour monitoring to ensure safe use of the Magnolia Bridge. That doesn't change.
Second, the Levy to Move Seattle funds a ten-bridge study to help us assess and manage roadway structure maintenance needs and maximize future investments. The Magnolia Planning Study was the first of the 10 assessments to be completed. The studies are a part of our effort to better understand the size of Seattle's maintenance backlog, which requires long-term attention. We'll be launching the Ballard Bridge Planning Study later this spring.
Lastly, we'll continue to work with the community and elected officials to be creative in examining funding opportunities for the Magnolia Bridge. We'll also be launching the Ballard-Interbay Regional Transportation system study pending confirmation of state funding.
For additional details about how the study was conducted and how community input was considered visit the Project Library.
Email us with questions at magnoliabridge@seattle.gov or subscribe to receive occasional project updates.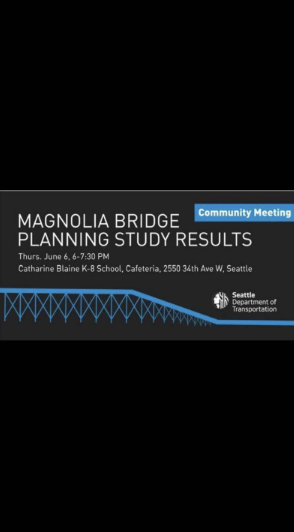 Clean Up! Clean Out! Saturday
Join Windermere Magnolia's Community Service Day event this Saturday and Clean Up! Clean Out!
Windermere staff will be on hand to help you load your . Saturday, June 8 from 9-1 on 33rd Ave W between W McGraw and Wheeler Street
Bring your papers to shred, clothing to donate, and electronics to recycle. In addition to an on-site shredding truck, we will have an electronics recycling truck collecting old computers, TV's, monitors, printers, cameras, cell phones, batteries, small appliances and more.
There will be a Good Will truck onsite to collect used adult clothing and undergarments. Now is the time to get a jump start on your spring cleaning!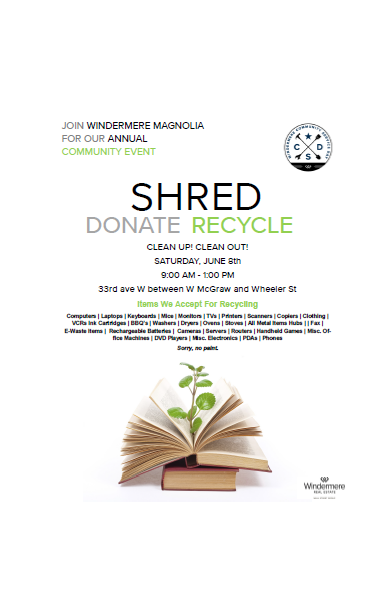 Blaine Carnival Friday
All are invited to help kick off the summer season in Magnolia with rides, games and live music! Invite your friends–this Friday, June 7th 5:30 to 8:30pm.
Come one, come all!! Help us celebrate another great year for our beloved Catharine Blaine K-8 school in the heart of Magnolia.
This annual event and fundraiser is open to the entire Magnolia community; invite your friends and neighbors. Come and enjoy a fun evening filled with games, rides, activities, food, treats and a ton more fun.
Check out live music by local band, Those Guys, who will fill the carnival with their amazing covers of pop and rock hits. 
Avoid lines and save money by purchasing tickets in advance via this site. 1 Ticket = $1. Pre-purchase is available in bundles of $20. For each pre-purchased bundle, you receive 23 tickets. Skip the lines and buy your tickets in advance HERE.
Access to carnival games, inflatables, rides, souvenirs and snacks are exclusively through tickets. Activities range from 1 ticket for simple games up to 5 tickets for the professional carnival rides and inflatables. Sodas, water and candies range from 1-2 tickets.
Food can be purchased separately with cash/credit from one of the amazing food trucks.
This Carnival is the last major fundraiser this year for the Catharine Blaine PTA. Would your family or business like to help? Click HERE.
Help is needed at the event too. This is a great opportunity for High School students who may need community service hours! Please click on the Sign Up Genius HERE.
If you have questions, please reach out to our Carnival Chairpeople:
Brian Matsubara, brian.matsubara@gmail.com
Jen Arterburn & Jake Milstein, jenjake@gmail.com
Magnolia Bridge replacement costs far exceed city's budget
By Meghan Walker at our sister site MyBallard
The 90-year-old bridge into Magnolia is nearing the end of its lifespan, and the cost replace it will likely require some federal funding.
In 2017, the Seattle Department of Transportation launched a study to look at viable replacements for the aging bridge, and distilled the options into four alternatives.
Alternative 1 is a new Armory Way Bridge and Western Perimeter Road, Alternative 2 includes Dravus St. improvements and Western Perimeter Road, Alternative 3 would create a new Garfield Bridge with Dravus St improvements, and Alternative 4 would replace the Magnolia Bridge.
The study ranked the Armory Way Bridge (Alternative 1) highest, with the Magnolia Bridge replacement (Alternative 4) coming in second, and the Dravus St. bridge improvements (Alternative 2) in third. The ranking for second and third place was narrow, with less than one point dividing the two.
Cost estimates for the above projects span from $190 million to $420 million, which "far exceed" available city funds, according to SDOT. The department says they would need "significant outside investment" from state or federal partners to complete the work.
The Magnolia Bridge study is part of a ten-bridge study funded by the Levy to Move Seattle — the next bridge study will assess the Ballard Bridge, and will commence later this year.
If you want to learn more or provide input regarding the Magnolia Bridge study in person, there's a community meeting on Thursday, June 6 at Catharine Blaine K-8 in the cafeteria from 6 to 7:30pm.