Welcome Magnolia's Restaurant & Lounge
Posted on March 1st, 2018 by Sara
By reporter Steven Smalley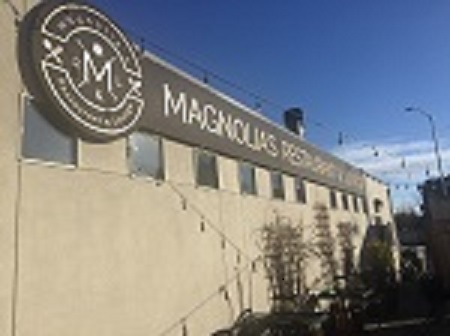 With a promise to stick with the previous fine dining menu, Raja Mandapati and his wife Chef Vijaya Lakshmi Mandapati have purchased Rogo's restaurant in The Village with the intention of maintaining the high standards of the previous owners. New signage on the front and side of the establishment was installed recently, complete with gold on black logo it reads, Magnolia's Restaurant & Lounge.
The renovated menu, with traditional fine dining selections still in place, such as seasonal fish, seared scallops and Szmania's favorite Jaeger Schnitzel, is now augmented with a few Indian dishes.
Indian selections, such as slow cooked Lamb Vindaloo, Butter Chicken, and a vegetarian option, Paneer Mutter – a gravy-laden tradition of cheese cubes and green peas cooked with chopped onions, tomatoes, cream, and cashews boost the menu. There is also expanded children's options, and desserts to include three Indian items as well.
This reporter tried the Butter Chicken which was accompanied by basmati rice, a tangy tomato and cucumber salad, and an unforgettable cabbage sauté. When asked about the spices within the terrific recipe, the chef would only disclose: mustard seeds. We could have simply consumed a bowl of cabbage and been completely satisfied. All of the flavors within the meal were remarkable.
About 30% of the entire menu is Indian dishes.
"We have three other restaurants in Charlotte North Carolina. Our family has lots of experience in the restaurant business," explains Raja Mandapati. "We'll see how the neighborhood interacts with the new menu items and then rotate them as we see fit. We want to make this one of the best neighborhood restaurants."
Look for daily specials Thursday-Saturday, including prime rib, lamb shanks, Ahi tuna, and beef brisket. The full bar has a happy hour 4-6 p.m. daily with drink and food specials. Restaurant hours: Sunday-Wednesday 4-9 p.m. and Thursday-Saturday 4-10 p.m.
The previous owners, Julie and Ludgar Szmania stopped by from their Wenatchee home to offer encouragement.
"They enjoyed themselves and gave us excellent feedback," Mandapati beamed. "They said call us anytime you need support. Their visit gave us a big boost."
Additionally, Mandapati tells Magnolia Voice, Rogo's Chef Michael and his wife Caroline decided to sell the restaurant and follow her career path to a new city, in case you were curious. All the best to them.
Magnolia's Restaurant and Lounge is located at 3321 West McGraw Street in the world-renowned Magnolia Village.
Visit their website: www.magnoliaslounge.com
2 responses to "Welcome Magnolia's Restaurant & Lounge"