Sink hole!
Posted on November 4th, 2017 by Sara
By reporter Steven Smalley

"Everybody blames each other," explains Carlos (no last name given), a neighbor next to a sink hole located in the middle of 23rd Avenue West, just off Dravus. "I drove past it in my SUV yesterday and it caved in right behind us. I parked the car and BOOM, it dropped. It was my lucky day."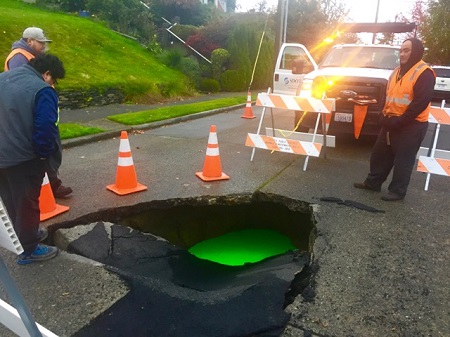 City workers from the Department of Transportation said the 10 ft. square opening was caused by runoff water from the adjacent hillside occupied by four homes. Drainage pipes are clearly seen pouring water onto the street from the properties. Green dye was used to see if the water came from other than natural sources. Workers said a broken pipe was not the cause.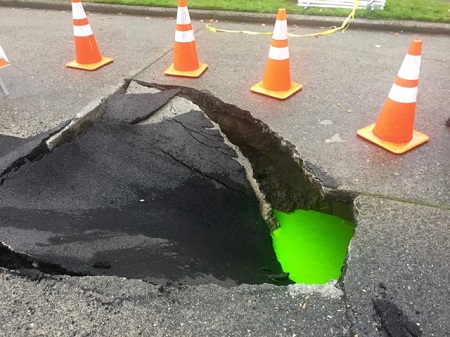 "This has been an issue for years," says Carlos. "In the winter it freezes and the street cracks. It's been a major problem. This is going to give in one of these days. They need to replace it all. There is no drainage on the street."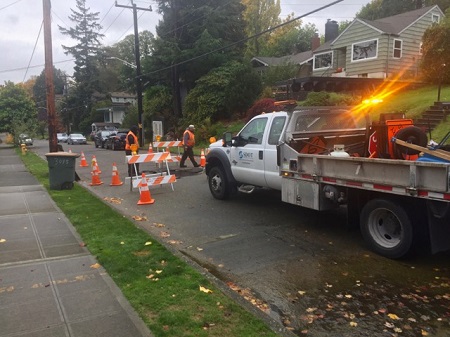 City employees tell Magnolia Voice they will fill in the hole with gravel and add a patch. A different department will cover with concrete at a later date, they said.