Bartell's southern girl says goodbye
Posted on September 18th, 2017 by Sara
By reporter Steven Smalley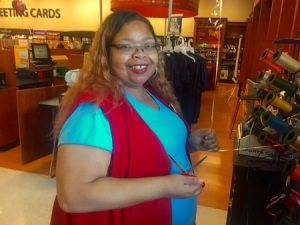 One of the mainstays at Bartell Drugs in Magnolia Village is going home after 16 years. Latonia "Toni" Jordan has given her notice and will move in with her cousin closer to her New Orleans roots in Picayune, Mississippi. Magnolia Voice readers are sad to see her go.

"Many of us have been saved countless times while we navigated the Kodak Kiosks," says Tara Larson, a Bartell's shopper. "She singlehandedly masterminded many people's Christmas cards and photo albums acting as the tech expert in the Photo Department. She is loved by so many customers."

"I've been known to be the photo lady," says Toni. "I try to make everyone's pictures look like I'd like mine to look. When I'm helping you with your photos I'm giving you something I would like to buy. I try my best."

As for the future?

"I don't have anything lined up yet," she reveals. "It could be photo or comedy."

Stop by Bartell's and wish Toni all the best.
9 responses to "Bartell's southern girl says goodbye"