Port approves new location of Tent City 5
Posted on September 16th, 2017 by Sara
By reporter Steven Smalley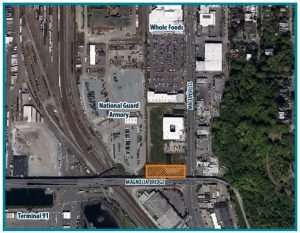 The Port of Seattle announces its affirmative vote to locate Tent City 5, now sited on City of Seattle property behind the Dravus QFC, to Port property at the east end of the Magnolia Bridge. 

The following is taken from a Port news release: 

"The Port of Seattle is doing its part to address the region's homelessness crisis by partnering with community groups and the City of Seattle to provide needed resources.  The Port of Seattle Commission took action today, making our Tsubota property located at 1601 15th Ave W available as a new temporary location for Tent City 5."

"Up to 80 residents and their small structures and tents would be on Port property for up to two years, starting sometime in November of this year.  With this approval from the Port of Seattle Commission, the City of Seattle will be holding up to two additional public meetings regarding the placement of Tent City 5."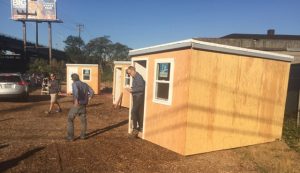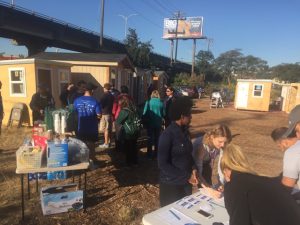 UPDATE: Today the Port of Seattle hosted a United Way Day of Caring event with Microsoft employees to paint the small structures on the Tsubota site. Homeless advocates, media, and Port staff were on hand to welcome guests and show off their Tiny Houses.

"I'm proud to have been part of the unanimous decision" to affirmatively move Tent City 5 from the Dravus QFC location to the Port property near the Magnolia Bridge, said Fred Felleman, Seattle Port Commissioner. "I had no idea I'd have the opportunity to contribute to this regional crisis. I can't believe how fortunate and proud I am to be part of this novel solution critical to our city's livability."

Employees from Microsoft were also on-board.

"Today we will be helping set up, paint and beautify the Tiny House Village," explained Stephanie Worley, Microsoft Senior Marketing Manager. "We are interested in helping to understand what's happening in Seattle with homelessness. And we're very excited to participate with a project that is helping to move people out of homelessness."

More information from the Port of Seattle can be found here.




2 responses to "Port approves new location of Tent City 5"