Chihuahua falls over the bluff. Rock climbers to the rescue.
Posted on July 2nd, 2017 by Sara
By reporter Steven Smalley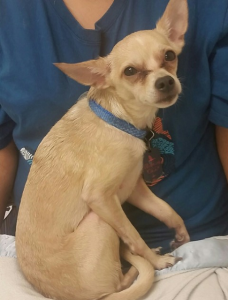 "Courage," a tan chihuahua with a blue collar, is like a child to Vivian Alex. She's been through tough times lately and can use the comfort. Along with her friend, Stacey Chapin-Boyd, they were returning to Olympia Thursday from some personal business in Everett. That's when they decided to take in some sightseeing. Upon spotting Elliott Bay in all its grandeur, the two women ended up at the very south end of 28th Avenue West overlooking the marina.
"Right in front of us we saw the ferries and boats and we wanted some pictures," remembers Chapin-Boyd in an exclusive interview with Magnolia Voice. "Suddenly Courage jumped out of the car," and headed right toward the bluff.
"We heard some scratching and yelping," she says. "We looked over the edge and couldn't believe it."
Courage had gone over the cliff. Turns out he had a badly broken leg.
Following a call to 911 and their referral to Animal Control, the women suddenly realize they were in trouble.
"Animal Control wasn't set up for this kind of rescue," says Chapin-Boyd. "Doesn't the fire department rescue cats?"
Not today it seems. Not according to 911.
At this point, a crowd had formed, motivating a jogger to stop and give some life-saving information. She has friends who are rock climbers.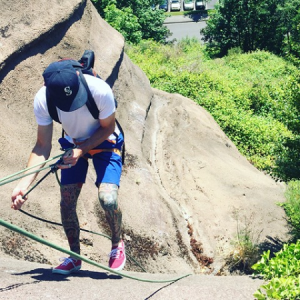 Right here in Magnolia is an indoor climbing gym called, Vertical World. Established in 1987, employees say it's the nation's oldest. Tyson Schoene works there.
"We got a call at the gym about a dog who had fallen over one of the cliffs on Magnolia at 28th and Galer," says Schoene. " Of course we offered to help. We rushed over there from our climbing gym and saw people standing together looking over the cliff. Sure enough a little chihuahua was down there. We never asked how this happened."
Ropes and rocks come naturally for Schoene and his mates. They're up and down mountains before breakfast.
"I was born and raised a climber. My parents were climbers. It was easy for us. We were right on time to make this happen," he says. "The dog was important to them, like their baby. They were shaken."
This part of the bluff is steep, a 70 degree angle, according to Schoene. Concrete-like material is poured over the face to help keep it together, and that's where they found Courage.
"We set up an anchor and I rappelled down approximately 30-feet to him." Schoene continued. "He was very quiet and welcoming to me. And sure enough his leg was broken very badly. Clean through. I held him for a while to help him feel comfortable with me."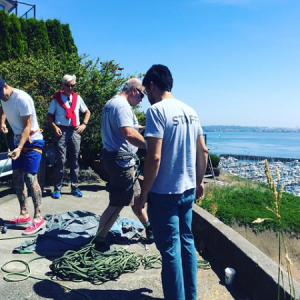 This isn't the first time Schoene has held a Chihuahua.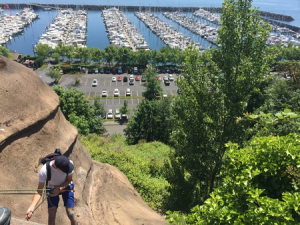 "My wife and I have three of our own," he says.
They used to have four of the little dogs, but one recently died. This rescue had special meaning.
Schoene placed the injured Courage into a bag they used for ropes.
"Then I put him in a backpack. I ascended the cliff with the rope and my ascender," he recalls. "When I got to the top I pulled him out of the bag and returned him to his mom. She was very thankful."
"Tyson and his crew were fantastic," says Chapin-Boyd. "He helped us find a vet and a hospital. They went above and beyond all expectations. They've been such a blessing. Makes me want to become a rock climber."
After surgery, Courage is recovering. He made the trip home from the veterinarian yesterday.
"Everyone's fingers are crossed. He's been such a trooper through all of this," Chapin-Boyd says. "Thank you to everyone. Vivian and I are so appreciative."
When Schoene was asked what he thought after experiencing all of this, his answer was short.
"Super cool."
Tyson Schoene wants to acknowledge his co-workers who were also on-hand for the rescue: KJ Maxwell, Lauren Rojas, and Brian Luft.
Vertical World is located at 2330 West Commodore Way. They have indoor rock climbing classes for adults and youth.
Thanks to a Magnolia Voice reader for the tip. Photographs courtesy of Vertical World.
2 responses to "Chihuahua falls over the bluff. Rock climbers to the rescue."