Magnolia's own debuts at SIFF
Posted on May 19th, 2017 by Sara
Magnolia resident and writer/director, Ian Ebright has a brand-new film out. The locally-shot narrative short The Devil Needs a Fix will have its world premiere at SIFF 2017 on Sunday, May 28 (noon at SIFF Uptown). Ebright will be on-hand for a Q&A after the viewing.
About The Devil Needs a Fix: In this narrative short film combining the genres of fantasy, comedy, and drama, an ambivalent reporter could end up getting a big break if his interview with the Devil goes as planned. Devil is described as "deliciously intriguing…a sophisticated dark comedy with an edge," by Los Angeles Film Festival co-founder and former Palm Springs International ShortFest programmer Thomas Ethan Harris.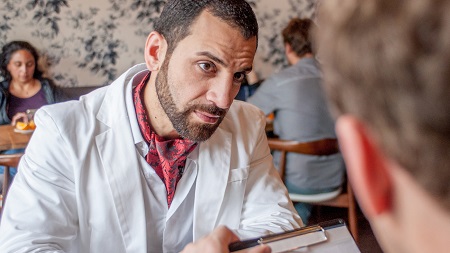 The Devil Needs a Fix also boasts a haunting, memorable soundtrack from Helsinki-based folk/pop/electronic band Husky Rescue (KEXP, Lollapalooza, SXSW, HBO's The Sopranos), including previously unreleased versions and original music composed for the film by Husky Rescue founding member/lead musician Marko Nyberg.
Click here for tickets.