Seattle engagement rings capture the Magnolia spirit
Posted on February 7th, 2017 by Sara
A sponsored post from our friends at EraGem
Local Seattle engagement ring company EraGem has been examining how best to align jewelry styles with Seattle neighborhoods, including Magnolia.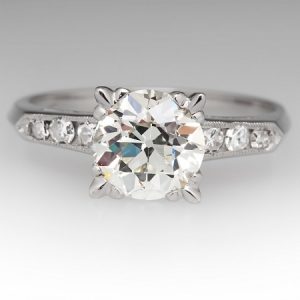 Maslow at EraGem says:
?Vintage wedding rings with old European cut diamonds are well received all across Seattle and align perfectly with the?Magnolia neighborhood.? They celebrate how our history has shaped us and reflect the beauty in the art and architecture of eras past.? A 1950s engagement ring in platinum with diamond accents looks fantastic with an antique old European cut diamond, pulling together our favorites from two distinct periods.? The combination is beautiful and reminiscent of when diamonds were passed down as heirlooms through families creating gorgeous combinations that now make perfect Seattle engagement rings.?
?EraGem offers a one-of-a-kind shopping experience for Magnolia residents.? View their entire selection of engagement rings and other estate jewelry online and elect to have the piece shipped to your home or create a custom wish list and then visit their?comfortable showroom to try on your favorites.