Port of Seattle: Tent City under Magnolia Bridge
By reporter Steven Smalley

A recommendation by the Port of Seattle (POS), in conjunction with the City of Seattle and other community groups, is in process to locate Tent City 5 on Port property adjacent to the eastern side of the Magnolia bridge. Called the "Tsubota Property," at 1601 15th Avenue West, the proposed encampment would be situated on the northwest corner of 15th and the bridge. 

The Port of Seattle Commission takes up the issue at its September 12 meeting. If approved the current tent city, made up of 70 residents, their small structures, and tents will move from its current location behind the Dravus QFC and relocate for up to two years, according to a POS website document.  

A public meeting in Magnolia is scheduled for this Wednesday, September 6 at the Magnolia Community Center at 5:30 p.m. The public can ask questions and make statements, according to a Port representative who spoke with Magnolia Voice.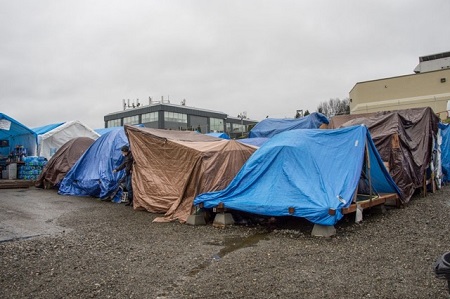 For more information email: homelessness@seattle.gov
Tent City leaves SPU
From our friends at Queen Anne View
Tent City 3 left its temporary home at Seattle Pacific University earlier this week, after 90 days in residence.
Tent City 3 is a community working to help decrease the number of people on the street by providing transitional housing. In 2002, Seattle City Attorney Tom Carr signed a consent decree giving the encampment an ongoing permit. Today, Tent City 3 offers shelter for up to 100 men, women, and couples.
A number of activities surrounded the SPU campus stay, including an on-campus forum ?Growing Up Homeless?? and ?Homelessness: A Crisis of Affordable Housing.? Students volunteered by cooking meals, holding multiple clothing drives (including one just for socks), and starting knitting groups.
Tent City 3 now resides at St Mark?s Episcopal Cathedral in Capitol Hill, where it will remain until mid-June.