Memorial Day services in Magnolia
By reporter Steven Smalley

Magnolia's American Legion Post announces Memorial Day services for the holiday, 10 a.m. this Monday morning at Ft. Lawton Cemetery. All community members are welcome to attend ceremonies to remember those who made the ultimate sacrifice in the service of our country.

The focus of observances this year is on veterans of World War II and the Korean conflict, according to Elizabeth Servey, commander of the post.

"Memorial Day is important to remember the men and women who felt a calling to defend our nation, even though it meant laying down their lives – particularly those who served in World War II and Korea. We should take the time to remember not just that we have a day off, but to think about people's stories to teach our youngsters about our past to guide them toward the future," says Servey.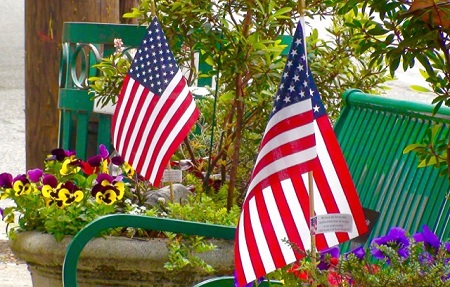 Along with the Boy Scout color guard, neighborhood kids will sing the Star Spangled Banner, and taps will be played.

One important note – this year services are held at the Ft. Lawton Cemetery only. No ceremonies in the Village as in years past. 

To reach the Ft. Lawton Cemetery, enter Discovery Park through the east entrance off West Government Way. The site – still currently maintained by the U.S. Army out of Joint Base Lewis-McChord – is located 300 yards west of the park entrance. Look for the white burial markers.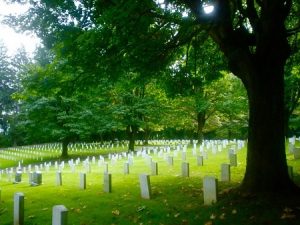 Servey says all veterans are welcome to join Magnolia's American Legion Post. For more information, email: elizabeth.servey@gmail.com
Magnolia's own debuts at SIFF
Magnolia resident and writer/director, Ian Ebright has a brand-new film out. The locally-shot narrative short The Devil Needs a Fix will have its world premiere at SIFF 2017 on Sunday, May 28 (noon at SIFF Uptown). Ebright will be on-hand for a Q&A after the viewing.
About The Devil Needs a Fix: In this narrative short film combining the genres of fantasy, comedy, and drama, an ambivalent reporter could end up getting a big break if his interview with the Devil goes as planned. Devil is described as "deliciously intriguing…a sophisticated dark comedy with an edge," by Los Angeles Film Festival co-founder and former Palm Springs International ShortFest programmer Thomas Ethan Harris.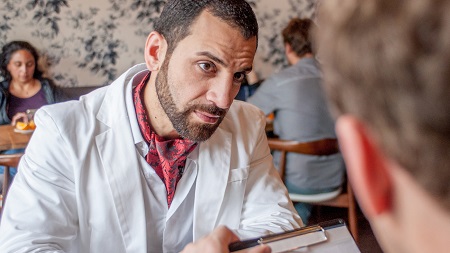 The Devil Needs a Fix also boasts a haunting, memorable soundtrack from Helsinki-based folk/pop/electronic band Husky Rescue (KEXP, Lollapalooza, SXSW, HBO's The Sopranos), including previously unreleased versions and original music composed for the film by Husky Rescue founding member/lead musician Marko Nyberg.
Click here for tickets.
Get your tickets for VOCALPOINT's "ADDICTED TO LOVE"
A musical exploration of everyone's favorite subject!
May 18-28, 2017
"Addicted to Love" features the vocal, dance, and dramatic talents of the 30-member Vocalpoint! Seattle
ensemble, a select group of high school men and women from throughout the Puget Sound region.
All performances will take place at Broadway Performance Hall at 1625 Broadway Avenue on Capitol
Hill. Performance times are 7:30 pm Thursday through Saturday, and 2:30 pm on Sunday. The production
closes on Sunday, May 28.
Tickets are $20 adult, $15 senior, $10 students. Student tickets are only $5 on Thursday and Friday night!
Seating is reserved, and tickets are available in advance by calling the Vocalpoint! Seattle office at 206-524-
3234, visiting the website at vocalpointseattle.org, or at the door. The box office opens one hour prior to
concert start time.
Vocalpoint! Seattle is an affiliate ensemble of the highly acclaimed Northwest Boychoir (in which many talented Magnolians lend their voices!)  It serves as an advanced educational and performance program for high school age men and women with vocal, dance and theater skills. The Northwest Boychoir is a non-profit organization that has been offering professional-level music education in the greater Seattle area for 40 years.
Make. Take. Host. And Show. When it comes to art, Westerly Studio offers all the above. 
Part studio, part gallery, space for hire and art classes to boot. Westerly Studio is an artist-run studio/gallery coming to the heart of Magnolia Village. A new creative hub where arts, crafts, classes and overall inspiration collide. There will be camps and workshops for all ages, a showcase and evolving collection of art by the founders and other local artists, and a place to host your own event, class or social gathering. Stay posted for open studio hours, new events and a well curated selection of goods for sale.
Westerly Studio believes that art and creative expression are more important than ever.  Founders Julie Jacobson, Greta Dutton and Beth Goodman (two previously of Gray Sky Gallery and one fabulous all on her own- think visual guru for West Elm, Crate and Barrel and more) all have backgrounds in art and design. While none are originally from the Northwest, each of them landed in our beloved Magnolia to live and raise their families. They love this special community with its small-town appeal just outside the buzzing Seattle metropolis. Their dream is to provide a creative space to congregate, experience art and most importantly have fun.  They know that participation in art significantly improve's a child's learning and development potential. And the sheer fun of being creative reduces stress for adults.
Westerly is kicking off the summer with kids art camps (sign up now!) where the kids will explore different mediums and techniques and come home with masterpieces to call their own.  See for yourself at westerlystudio.com.
Visit Westerly Studio at their open house Friday, June 16 (4-8pm).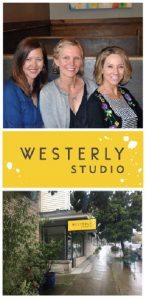 ·       Session 1. June 27 – 30  (Instructors Julie Jacobson and Beth Goodman)
·       Session 2. July 10 – 14  FULL
·       Session 3. July 17 – 21  (Instructors Julie Jacobson and Beth Goodman)
·       Session 4. August 21 – 25  (Instructors Julie Jacobson and Laura Van Horne)
·       Session 5. August 28 – September 1 (Instructors Julie Jacobson, Beth Goodman and Greta Dutton)
Attempted arson of apartments 
By reporter Steven Smalley


New information just revealed to Magnolia Voice by neighbors near 32nd Avenue West and West Jameson Street indicates an arson was attempted at a nearby apartment building under construction. Neighbors say on or about April 10, diesel fuel was poured throughout the entire building on all floors with an ignition system rigged to set it ablaze. The igniter did not function as planned, according to those who were interviewed by Seattle Police and Fire Departments, the Bureau of Alcohol, Tobacco, and Firearms, and the FBI. Subsequently, no fire occurred. 

Sources say the apartment building has been a bone of contention with nearby homeowners.  Some say it's out of character with the neighborhood and blocks views. Attempts to force the city to stop construction failed, according to those with knowledge of the situation.

A call to the Seattle Fire Department for additional information was not immediately returned.

Along the same line, two suspicious fires were set Friday night in the Magnolia neighborhood with emergency crews responding. The initial blaze was ignited in wet shrubbery adjacent to the Magnolia Court Apartments just south of Albertson's. Flames reached as high as 20 feet along the side of the building which melted some of the vinyl siding and broke a window. Witnesses inside Albertson's say they saw kids running past the store laughing and pointing towards the fire. Store management turned over video to investigators who are not sharing it with the public, according to a report on KIRO 7 News. 

Just an hour later another fire set in shrubbery by the side of a residence under construction on 29th Avenue West near the dog park was reported to Magnolia Voice by a reader. There was no damage to the building. 

Investigations are still underway with no indication of who set the blazes, according to an official from the Seattle Fire Department.
Porcelain Gallery closing
A Magnolia institution is closing its doors.  Porcelain Gallery owner Steve Lundh writes:
After 42+ years of offering the finest artwork and tabletop items to the Pacific Northwest and across the globe, I have decided to retire and close the Porcelain Gallery. We've had the opportunity to make so many great friends over the years, which makes this an especially bittersweet moment.
We still have lots of inventory and are beginning our closeout sale this coming Saturday, May 13 and will continue until the end of June. Everything in the gallery will be on sale starting at 25% off, so stop in soon for the best selection.
We want to thank all of our customers and neighbors for your many years of support and friendship.
Register for soccer !
Registration for the Fall 2017 Season is almost upon us! Registration opens, May 15th and runs through July 4th for both Association (U10 and above) and MOD (U6-U9).
For any registrations on or after July 5th, a Late Fee of $35 will be charged.
Click here
to enroll, on or after May 15th. Click on "Registration" and follow the prompts from there to complete registration. Please register as soon as possible.
Please note that MSC reserves the right to close registration earlier than the above dates due to balancing of teams, available permitted field space and proper number of coaches, so register now!
Fees for the 2017 Fall Season are as follows:
Modified (U6-U9): $125 if registered before July 4th.
                                 $35 Late Fee for registrations received on or after July 5th.
Association (U10 and above): $150 if registered before July 4th.
                                                   $35 Late Fee for registrations received on or after July 5th.
Proof of age will be required to register for all new players. Returning players should already be age-verified in the system, and will not need to submit proof of age again.
See Into the Woods JR at Catharine Blaine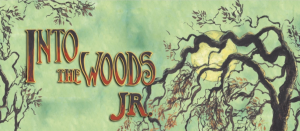 Catharine Blaine K-8 Presents "Into the Woods, JR", a Musical Performance.
Friday, June 2 @ 7:00 pm
Saturday, June 3 @ 7:00 pm
Sunday, June 4 @ 2:00 pm
"Be careful what you wish for as Stephen Sondheim's and James Lapine's cockeyed fairytale comes to life in this adaptation of their groundbreaking, Tony Award-winning musical. Into the Woods JR. features all of your favorite characters – Cinderella, Little Red Riding Hood, Jack (and his beanstalk) and the Witch in this lyrically rich retelling of classic Brothers Grimm fables."
Suggested Donation:  $5 per person or $20 per family.
Proceeds supports the Arts at Blaine.
Catharine Blaine 2550 34th Ave W.
Free beach shuttle at Discovery Park this summer
 A free beach shuttle will operate at Discovery Park from 10 a.m. to 5 p.m. on the following dates:
·         Saturdays and Sundays (May 27 to Sept. 4)
·         Special holidays: Memorial Day, Monday, May 29; Tuesday, July 4; and Labor Day, Monday, Sept. 4
During operation, the shuttle will pick up and drop off riders in the Visitors Center parking lot, at the north parking lot bus stop, and in the beach parking lot.
For park visitors wishing to walk to the beach, it is about a 1.5 mile walk each way from any of the three parking lots in Discovery Park. Walk on the Loop Trail until you reach one of three trails that lead you to the beach – the South Beach Trail, the Hidden Valley Trail, or the North Beach Trail.
No parking permits will be available for beach parking on Saturdays and Sundays, with the exception of two stalls reserved for disabled placards. Permits for disabled parking are available at the Visitor Center.
Click here for more information about Discovery Park.
Clean Up, Clean Out!
Start cleaning out your houses! All Magnolians are invited to Clean up! Clean out!, A free shredding, electronics recycling, and Goodwill event put on by the Windermere Magnolia office. Check out the flier below for accepted donations.