What's new at Magnolia's Bookstore
Check out the latest from Magnolia's Bookstore.
Garden of Lamentation by Deborah Crombie
Like contemporary British mysteries? We just got in Garden of Lamentations by Deborah Crombie which is #17 in her terrific Gemma James & Duncan Kincaid series. Kincaid is a Scotland Yard detective, James is a sergeant, and together they make a formidable team solving all sorts of nefarious happenings in London, as well as coping with the vicissitudes of their personal lives. In this newest offering, they are working separate cases that may end up being more entangled than first suspected, and the criminals may end up being uncomfortably close. These mysteries are well done, and not gratuitously graphic.
New in Paperback
Lab Girl by Hope Jahren
Jahren tells her remarkable life story with hilarity and genius, interweaving it with insights into the world of botany and scientific method .  She is a person like no other, driven by intense curiosity and obsessed with the desire to manufacture information.  It leaves you marveling at the vast number of ways there are to make sense of the world.
New in Paperback
The Summer Before The War
by Helen Simonson
Summer 1914. You know the book will end with the outbreak of war, but at first the only tension is whether the new female Latin teacher will be accepted in the all boy's school. Set in Rye, England, and replete with period detail, lovely scenery and plenty of small town gossip, this compulsively readable novel is more than a tea cozy as it deals with themes of a women's role, duty and identity in a changing time.
Magnolia's Reader Group
A unique reading group that meets the first Wednesday of the month.
7:00 pm at Luigi's Restaurant.
10% discount on a book during the month of the meeting. Next meeting: March 1st.
Norse Mythology by Neil Gaiman
Perfect pairing: Nordic myths interpreted by the briliant, original author.
New in Paperback
Britt-Marie Was Here by Fredrik Backman.  The author of a Man Called Ove.
New in Paperback
The Smell of Other People's Houses
by Bonnie-Sue Hitchcock
This YA novel perfectly describes what it feels like to grow up in Fairbanks, Alaska in the 1970's. That might sound very specialized, but the voices of the 4 teen narrators, with their interwoven stories of growing up, fitting in and surviving against tremendous odds give book a wide appeal. Modern, believable Alaska. Native characters, and a firsthand knowledge of the setting  add authenticity to Hitchcock's gorgeous prose.
New in Paperback
Before the Wind by Jim Lynch
Local writer Lynch, author of The Highest Tide, returns with the story of a sailing-obsessed Seattle family of boat-builders, narrated by son Josh.  Lots of local interest, and a great story alternating between Josh's childhood with his eccentric family and his current life working at an Olympia boatyard and hanging out with other live-aboards at his marina.  Great story and writing, and–rarest of qualities–pretty hilarious.
Join them for story time every Thursday afternoon at 2:30 pm
All ages welcome.
Give blood Monday
Make an impact by donating blood Monday, February 20 at the Magnolia Community blood drive:
Fatima Church Hall
1-7 PM
Walk-in Service ONLY
 Sponsored by the Magnolia Knights of Columbus
Click here for more information about Bloodworks Northwest. For questions about eligibility, please call 800-398-7888.
Millions of gallons of raw sewage dumped into Puget Sound this morning
From Department of Natural Resources and Parks website
 West Point Treatment Plant is operating in emergency bypass mode as a result of an equipment failure that occurred at about 2 a.m. this morning, during heavy rainfall and high tides. Crews are responding to restore operations.
To protect the treatment plant from significant flooding that could severely damage equipment, West Point is operating in emergency bypass mode. Untreated wastewater is being discharged from the outfall, about three-quarters of a mile offshore and 240 feet deep in Puget Sound. King County will continue to provide updates as this emergency situation is resolved.
King County has notified health and regulatory agencies, and is sampling water quality and posting signs warning people to avoid contact with the water over the next several days as a precaution to protect public health.
King County spokeswoman Monica Van der Vieren told KOMO Newsradio the raw untreated wastewater is gushing into the Sound through an outfall a quarter-mile from shore at a depth of 240 feet at a rate of up to 440 million gallons during each 24-hour period.
According to KOMO, The cause of the equipment failure remains under investigation. It happened during the overnight heavy rains, which coincided with a very high tide.
"The plant is designed to handle the type of storms we have," she said. "This equipment is really critical when we have high tides to get the treated wastewater out to the Sound, and we have extremely high tides and very high flows, but we don't know at this time what happened with the equipment."
We will update you as this story progresses.
Seattle engagement rings capture the Magnolia spirit
A sponsored post from our friends at EraGem
Local Seattle engagement ring company EraGem has been examining how best to align jewelry styles with Seattle neighborhoods, including Magnolia.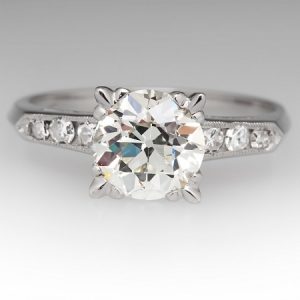 Maslow at EraGem says:
"Vintage wedding rings with old European cut diamonds are well received all across Seattle and align perfectly with the Magnolia neighborhood.  They celebrate how our history has shaped us and reflect the beauty in the art and architecture of eras past.  A 1950s engagement ring in platinum with diamond accents looks fantastic with an antique old European cut diamond, pulling together our favorites from two distinct periods.  The combination is beautiful and reminiscent of when diamonds were passed down as heirlooms through families creating gorgeous combinations that now make perfect Seattle engagement rings."
 EraGem offers a one-of-a-kind shopping experience for Magnolia residents.  View their entire selection of engagement rings and other estate jewelry online and elect to have the piece shipped to your home or create a custom wish list and then visit their comfortable showroom to try on your favorites.
HARRY POTTER NIGHT AT THE SEATTLE PUBLIC LIBRARY FEB. 2
In Magnolia-adjacent news, the library is calling all Fantastic Beasts and Cursed Children young and old to share a magical evening of Harry Potter-themed games and activities from 4-5:30 p.m. Thursday, Feb. 2 at the Queen Anne Branch, 400 W. Garfield St., 206-386-4227.
Consider this an Owl Post invitation to a night of magical activities, games and stories that celebrate the world of Harry Potter. Attendees are encouraged to wear Hogwarts house colors or dress robes, or get in character with their own take on a wizarding costume.
Library events and programs are free and everyone is welcome. Registration is not required. Free street parking is available near the branch.
For more information, call the Library at 206-386-4227 or Ask A Librarian.
The scoop on Magnolia's newest business
Good news, gelato lovers! Nutty Squirrel Gelato is starting construction for their new brick and mortar in Magnolia, in the old Wish Upon location. The new shop will have a year-round scoop shop and a state of the art lab style kitchen, where you can meet the chefs and watch fresh gelato being made.
Nutty Squirrel Gelato was a finalist  the Gelato World Tour in 2016, representing Western Americas, and voted the "Best Ice Cream Shop in Western Washington," two consecutive years. After five years of serving the Maple Valley and two years in Seattle's Phinney Ridge neighborhoods, the owners feel it's time to expand again and spread their love for gelato!
"Our award-winning, handcrafted gelato, made from scratch with traditional recipes and local ingredients, has spurred incredible success for our family owned and operated business. Just like in Maple Valley and Phinney Ridge, we have again sought a neighborhood with strong local culture: Magnolia. This wasn't a random decision," explained owner Tolga. "We feel very passionate about small communities, and connecting with people on a personal level."
Nutty Squirrel's Magnolia shop is slated to open this spring, at 2425 33rd Avenue W Unit B. "We are so excited that we found a great location in the heart of Magnolia Village" said co-owner Alev. "We look forward to serving some delicious treats, and getting to know our neighbors. We are planning a fun space for the kiddos, and maybe even gelato classes for the public; I think they will love it!"
They rotate over 200 flavors. The menu changes seasonally, to keep things fun. For more information and a list of what gelato is currently being served, be sure to follow Nutty Squirrel Gelato on Facebook, Instagram and Twitter.
About Nutty Squirrel
Nutty Squirrel is a small family business with one goal: to share their love of artisanal European ice cream/gelato with friends and neighbors. They make their gelato and sorbetto right in the store, using only the freshest ingredients. For more information, including catering details, click here.
MAX Winter session classes are open
From Contributor Monica Wooton
Winter Session art classes offered by MAX (Magnolia Art Experience) Magnolia's new non-profit that promotes art for all are now open for on-line registration. You can register on-line by going to www.magnoliaartexperience.org – classes begin in February and space is limited. Watercolor, writing and encaustic painting will be offered in a series or one day workshops. Students will have experienced instructors who emphasis working at your own pace and stress fundamentals whether it is joining an adult writing community and finding your writing voice, experimenting with watercolor as a medium or doing encaustics – learning to paint with pigmented wax.
Past students have commented on the individual attention by instructors, kind critique and gentle guidance; and, learning with others in an enthusiastic and professional art environment as big pluses to these classes. Costs are reasonable and scholarships are offered. MAX classes and events, including its Narthex Gallery space, are held on Magnolia at 3555 W McGraw.
On January 15th, MAX welcomed its 2017 Board, eleven community members many active artists themselves. They will participate in a Board retreat in January to develop a working rapport, think about Board policy and plan for the long range direction of MAX. They will manage the Narthex Gallery Shows, plan classes, ongoing events like art showings, artist talks, theater presentations, artist meet-ups, book readings, neighborhood art walks and other art related happenings for adults, children and families throughout the year. These activities will promote MAX's mission: "Magnolia's place for creative arts exploration and expression – A place where creativity, imagination and the arts flourish, where all are welcome. A safe place to encourage, nurture and develop the artist in each of us."
The new Board includes: Scott Ward past president, Nancy Gellos, President, Whitney Mason, vice-president, Charlie Evens, treasurer, Barbara Richardson, Secretary, and members at large: Colleen Monette, Claudia Meyer-Newman, Rebecca Novelli, Monica Wooton, Marilynn Sheldon, and Bill Seach.
Now showing at the Narthex Gallery works by emerging artist Brittany Wilde. In her artist statement Wilde says: "This collection of works takes a feminine and yet raw look at some of the most beautiful cultures, faces, eyes and human spirits from around the world. The beauty of the world lies in the diversity of its people and no two faces, eyes or emotions within this series are the same. Each individual captured within this series stands alone, demanding to tell their own story." The opening is January 28 4-7pm. The public is invited.
MAX welcomes inquiries regarding classes, volunteers, requests for art showings, class proposals and tax deductible donations. MAX is a 501 (C) 3 organization. Call 206-284-2430 for more information regarding how you can help MAX and how MAX can serve you! www.magnoliaartexperience.org
Red Cross says resolve to prepare for disasters in 2017
The New Year is here and many have made resolutions about things they want to do in 2017. The American Red Cross asks everyone to add getting prepared for emergencies to their list of resolutions.
"Households need to plan what they would do if an emergency situation occurred," said Colin Downey, Regional Communications Director. "All it takes is three easy steps; get a disaster kit ready, develop an emergency plan and be informed about what possible risks you may face where you live."
Families need to plan what they should do if a disaster occurs. Individuals can make a difference in their community by knowing what to do when disaster strikes. It's just a few short steps away:
Get a kit. If you've ever fumbled to find a flashlight during a blackout, you know what it feels like to be unprepared. Use a downloadable checklist available on redcross.org to make it easy to get your emergency preparedness kit ready. You should include:
Three-day supply of non-perishable food and water—one gallon per person, per day for drinking and hygiene purposes
Battery-powered or hand crank radio (NOAA Weather Radio, if possible)
Flashlight and extra batteries
First aid kit, medications and medical items
Copies of all important documents (proof of address, deed/lease to home, passports, birth certificates, insurance policies)
Extra cash
Make a plan. Talk with household members about what you would do during emergencies. Plan what to do in case you are separated, and choose two places to meet – one right outside your home in case of a sudden emergency such as a fire, and another outside your neighborhood in case you cannot return home or are asked to evacuate.
Choose a contact person from out of the area and make sure all household members have this person's phone number and email address. It may be easier to call long distance or text if local phone lines are overloaded or out of service.
Tell everyone in the household where emergency information and supplies are kept.
Practice evacuating your home twice a year. Drive your planned evacuation route and plot alternate routes on a map in case main roads are impassable.
Don't forget your pets. If you must evacuate, make arrangements for your animals. Keep a phone list of "pet friendly" motels/hotels and animal shelters that are along your evacuation routes.
Be informed. Know the risks where you live, work, learn and play.
If you live or travel often to areas near a fault line, learn how to prepare and what to do during an earthquake. Remember that emergencies like fires and blackouts can happen anywhere, so everyone should be prepared for them.
Find out how you would receive information from local officials in the event of an emergency.
Learn First Aid and CPR/AED so that you have the skills to respond in an emergency before help arrives, especially during a disaster when emergency responders maybe delayed. Visit redcross.org/takeaclass for online and in-class offerings and to register.
DOWNLOAD RED CROSS APPS Download the Red Cross Emergency App to receive emergency alerts and information about what to do in case of emergencies, as well as locations of open Red Cross shelters. It is a single 'go-to' source for 14 different types of emergencies and disasters and allows users to notify loved ones who are in an affected area. Download the Monster Guard App so 7- to 11-year-olds will have a free, fun, gaming environment to learn how to prevent emergencies, like home fires, and how to stay safe if severe weather or natural disasters occur. People can download the apps for free in their app stores or at redcross.org/apps. You can also check out the Magnolia-Interbay-Queen Anne Emergency Preparedness Committee (MIQA EPC) here.
Local author back with new page-turner
Fans of Magnolia author Mike Lawson's Kay Hamilton books will be excited to hear that a third in the series will be released on January 17. Lawson says in K Street, Kay gets tangled up with a devious Chinese intelligence officer, the NSA, and one very good thief.
Mike will be signing books at Magnolia's bookstore Jan 28 from 3–4pm.  Click here for more information.
20th ANNIVERSARY OF MISTER ROGERS' SWEATER DRIVE: HELP A NEIGHBOR IN NEED
Help those in need this winter by donating new or gently worn sweaters, coats and cold-weather gear to KCTS 9's 20TH annual Mister Rogers' Neighborhood Sweater Drive, from Friday, January 13 through Sunday, February 12. The donated items will benefit Wellspring Family Services, Queen Anne Helpline and Northwest Center.
Look for the Mister Rogers' Neighborhood Sweater Drive collection bin at any PCC Natural Markets location or Sound Credit Union location in Western Washington; or drop your items off at KCTS 9's Seattle Center studio. All new or gently used adult and children's sweaters and coats will be accepted.
KCTS 9 is also partnering with Uber to help those in need by making it easy to donate new or gently worn sweaters, coats and cold-weather gear at the touch of a button! On Saturday, February 11, Uber users can log into the app and request 'Donate' at the bottom of their screen. A driver will then be scheduled to pick up the donated clothing and deliver it directly to a local donation center – all for free!
 "All of us, at some time or other, need help," said Fred Rogers. "Whether we're giving or receiving a sweater, each one of us has something valuable to bring to this world. That's one of the things that connects us as neighbors—in our way, everyone is a giver and receiver."
KCTS 9 kicks off the Mister Rogers' Neighborhood Sweater Drive this year with a free Be My Neighbor Day party on Friday, January 13 from 10:00 am – 4:00 pm at the KCTS 9 studios, 401 Mercer Street, Seattle, WA 98109.
At the party, guests are invited to honor the legacy of Mister Rogers and celebrate the many ways we can all be good neighbors. Guests will enjoy crafts and fun activities with community partners including Seattle Children's Hospital, Vroom, Woodland Park Zoo, Wellspring Family Services, Seattle Art Museum, Pacific Science Center, Northwest Center, Cliff Bar, and Seattle Fire Department (SFD will be joining from 10 am -12 pm). Street Donuts will be selling donuts, hot cocoa and coffee—and they will donate a portion of the purchase price to the Sweater Drive. Plus, PBS Kids character Daniel Tiger from Daniel Tiger's Neighborhood will be joining us for the day. Guests will have the chance to meet Daniel and take a photo with him.
To participate in the Be My Neighbor Day party, guests may register on the Eventbrite page.  Guests should bring a new or lightly used sweater to donate, or make a cash donation to the Mister Rogers' Neighborhood Sweater Drive. Click here for details.
Fred Rogers began the sweater drive and inspired its spirit of generosity and neighborliness for six years before he passed away in 2003. KCTS 9 is honored to continue the program in his memory. Last year's Mister Rogers' Neighborhood Sweater Drive collected more than 7,500 sweaters and coats!