Bartell's southern girl says goodbye
By reporter Steven Smalley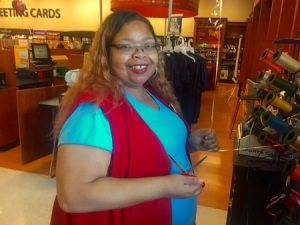 One of the mainstays at Bartell Drugs in Magnolia Village is going home after 16 years. Latonia "Toni" Jordan has given her notice and will move in with her cousin closer to her New Orleans roots in Picayune, Mississippi. Magnolia Voice readers are sad to see her go.

"Many of us have been saved countless times while we navigated the Kodak Kiosks," says Tara Larson, a Bartell's shopper. "She singlehandedly masterminded many people's Christmas cards and photo albums acting as the tech expert in the Photo Department. She is loved by so many customers."

"I've been known to be the photo lady," says Toni. "I try to make everyone's pictures look like I'd like mine to look. When I'm helping you with your photos I'm giving you something I would like to buy. I try my best."

As for the future?

"I don't have anything lined up yet," she reveals. "It could be photo or comedy."

Stop by Bartell's and wish Toni all the best.
Take a Moment – do a survey for Discovery Park
The University of Washington and the Seattle Parks and Recreation Department have partnered on a project to understand how people interact with nature in meaningful ways at Discovery Park.  The missing piece is YOU!  Please take a few moments and share your experience with nature at Discovery Park.
Click here to take the survey. Questions? Contact the HINTS (Human Interaction with Nature and Technological Systems) Lab at elev@uw.edu.
Port approves new location of Tent City 5
By reporter Steven Smalley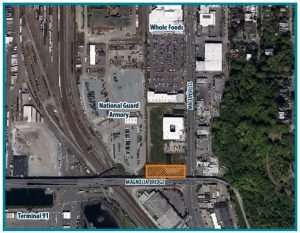 The Port of Seattle announces its affirmative vote to locate Tent City 5, now sited on City of Seattle property behind the Dravus QFC, to Port property at the east end of the Magnolia Bridge. 

The following is taken from a Port news release: 

"The Port of Seattle is doing its part to address the region's homelessness crisis by partnering with community groups and the City of Seattle to provide needed resources.  The Port of Seattle Commission took action today, making our Tsubota property located at 1601 15th Ave W available as a new temporary location for Tent City 5."

"Up to 80 residents and their small structures and tents would be on Port property for up to two years, starting sometime in November of this year.  With this approval from the Port of Seattle Commission, the City of Seattle will be holding up to two additional public meetings regarding the placement of Tent City 5."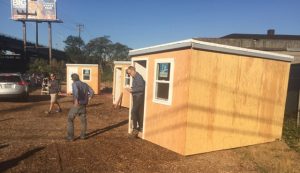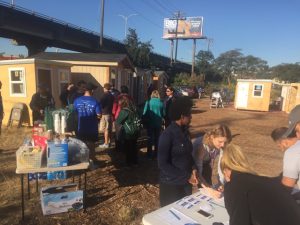 UPDATE: Today the Port of Seattle hosted a United Way Day of Caring event with Microsoft employees to paint the small structures on the Tsubota site. Homeless advocates, media, and Port staff were on hand to welcome guests and show off their Tiny Houses.

"I'm proud to have been part of the unanimous decision" to affirmatively move Tent City 5 from the Dravus QFC location to the Port property near the Magnolia Bridge, said Fred Felleman, Seattle Port Commissioner. "I had no idea I'd have the opportunity to contribute to this regional crisis. I can't believe how fortunate and proud I am to be part of this novel solution critical to our city's livability."

Employees from Microsoft were also on-board.

"Today we will be helping set up, paint and beautify the Tiny House Village," explained Stephanie Worley, Microsoft Senior Marketing Manager. "We are interested in helping to understand what's happening in Seattle with homelessness. And we're very excited to participate with a project that is helping to move people out of homelessness."

More information from the Port of Seattle can be found here.




Bike the Bluff is today-Still time to join!
Bike the Bluff is not a race — you set your own pace! Walk or ride a 5- or 7-mile loop around Magnolia. All proceeds benefit the Catharine Blaine 5th grade class trip to Islandwood, an environmental science camp on Bainbridge Island.
The 26th Annual Bike the Bluff is Saturday, September 16 from 10am-2pm. Meet and finish at Catharine Blaine Playground, Behind Pop Mounger Pool on 32nd Ave W.
The 5-mile loop travels past Magnolia Village, along the Magnolia Bluff, through Discovery Park, and back to Blaine via 34th Avenue West. The 7-mile ride continues after Discovery Park to loop around all of Magnolia. Detours can be added by rolling down through Discovery Park to the lighthouse and then climbing back up, rejoining the loop rides. They also have a 'training wheels' distance route this year.  It is a 1 mile sidewalk loop (not only for those with training wheels). You can Download the Course Map here.
There will be complimentary treats at the finish for all riders, and a RAFFLE!!  Win fun prizes, including a kid-size Raleigh bike, generously donated by Alpine Hut.
Register online at www.bikethebluff.org.
Shop and help our local students at the same time!
Hey Magnolia!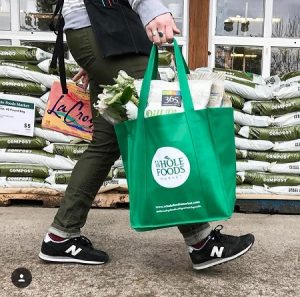 Fill your grocery cart to fulfill a need in your local community! Shop Whole Foods Market Interbay on September 20, 2017 and 5% of the day's sales benefit Catharine Blaine K-8 School.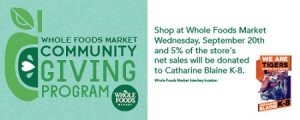 .
Need a friend? Have a seat
By reporter Steven Smalley
Friends are a blessing, although occasionally tough to find, especially if you're a kid. At Magnolia's Catharine Blaine K-8 School making new friends just got a little easier with their new Friendship Bench.
With the help from the good people at Magnolia Ace Hardware and school volunteers, the Friendship Bench was built right in the center of the playground for all to enjoy. Not just a place to sit, but a place for kids who need a friend to get one.
Blaine students Connor, and his sister Caitlin, saw a documentary about three boys who had a buddy bench donated to their school playground; which gave them the idea to add a similar bench to Catharine Blaine.
"If you don't have a friend, or you need a friend to play with you sit on the bench. Then, if you see someone sitting there, you ask them if they want to play," Connor explains. "[If] I might feel a little sad and lonely, sitting on the bench helps you find a friend."
There is no stigma attached, says principal Ryan LaDage, "We've built it up to be a helpful place. It's not anything kids should be ashamed of, even from our youngest students to our middle-schoolers. It's positive from 5-year-olds to 14-year-olds. It is a way for other people to see who is looking to play. So they see somebody on the bench, they can come over, and invite them to play, or sit and talk."
Good to know you've got a friend at Catharine Blaine.
SFD lists arson fires in Magnolia
Arson fire similar to these shrubs set afire in June
Arson fire at 28th & Tilden
By reporter Steven Smalley
Between January and September of this year, Seattle Fire Department itemizes 10 arson fires set around the neighborhood, the latest reported by Magnolia Voice at 29th & Tilden. Here is their list:
Jan. 9 Recycle bin fire, 3822 23rd Ave. West
Jan. 9 Recycle bin fire, 23rd Ave. W & Armour
Jan. 11 Recycle bin fire that extended to garage, 2220 W. Emerson St.
Feb. 22 Cardboard boxes fire near back door, 3835 23rd Ave. W
Apr. 6 Fire to construction debris at residence under construction
May 11 Exterior hedge fire, 3502 29th Ave. W
May 12 Planter box fire, 2520 32nd Ave. W
Jun. 1 Exterior fence/hedge fire, 28th Ave. W & Grover
Aug. 28 Tree fire, 1400 Magnolia Blvd.
Sep. 4 Fire started on hedge, extended to residence, 3623 28th Ave. W
From a Seattle Fire Department website: "A series of set fires have occurred in the Magnolia neighborhood over the past few months. The majority of these fires have been intentionally set in recycle bins or in outside shrubbery/hedges. Two of the fires have spread to nearby structures"
The following is a list of things you can do to help prevent arson fires at your home, according to Seattle Fire.
OUTSIDE:
Secure home, garage areas and businesses by locking doors and windows.
Clean up wastepaper, grasses, weeds, litter, or anything that can burn from around buildings. Clear carport areas of all combustibles.
Locate dumpsters, recycle bins and yard waste containers at least five feet away from walls and roof eave lines. If possible, keep them in a secured area. Do not allow them to become overfilled.
Place locks on commercial dumpsters or keep in secured area. Locks may be available through your contracted service provider. Use only metal or metal-lined receptacles.
Residential customers can call Seattle Public Utilities at (206) 684-7665 to arrange for delivery and installation of locks for recycling and garbage containers.
Trim shrubbery from doors and windows to improve visibility.
Install motion-sensor exterior lights or consider leaving lights on.
INSIDE:
For businesses, check fire and life safety systems, including fire extinguishers, to ensure they are working and in compliance with codes.
For homeowners, test smoke alarms to ensure they are working.
Develop and practice a fire escape plan. Be sure it includes knowing all the exits and a meeting place.
If you have a fire extinguisher, know where it is located and how to use it.
Keep exit ways clear of items which could slow evacuation efforts.
Please report any information you believe may be related to arson to SPD's Arson and Bomb Squad at (206) 684-8980 or the Arson Alarm Foundation Hotline at 1-800-55-ARSON or arsonalarm.org[1]. Those providing information may remain anonymous. If you see suspicious activity taking place, please call 911.
Suspected arson fires are referred by the Seattle Fire Department to Seattle Police for investigation as crimes. A Seattle Police representative tells Magnolia Voice these fires are still under investigation and cannot confirm whether any were set by one person.
Discovery Park Beach Shuttle and Fall Programs
Take advantage of the last weekend of the Discovery Park Beach Shuttle.  This FREE bus picks up passengers from the Visitor Center and North Parking Lot beginning at 10:00am on Saturday, Sunday AND Monday of Labor Day weekend.
Fall program registration is available now.  Please call 206.386.4237 to register for the ever popular seasonal favorites – Mushroom and Spider programs and brand new programs such as Winter Wander Along Longfellow Creek and Writing in the Wild. Click here for more information.
Port of Seattle: Tent City under Magnolia Bridge
By reporter Steven Smalley

A recommendation by the Port of Seattle (POS), in conjunction with the City of Seattle and other community groups, is in process to locate Tent City 5 on Port property adjacent to the eastern side of the Magnolia bridge. Called the "Tsubota Property," at 1601 15th Avenue West, the proposed encampment would be situated on the northwest corner of 15th and the bridge. 

The Port of Seattle Commission takes up the issue at its September 12 meeting. If approved the current tent city, made up of 70 residents, their small structures, and tents will move from its current location behind the Dravus QFC and relocate for up to two years, according to a POS website document.  

A public meeting in Magnolia is scheduled for this Wednesday, September 6 at the Magnolia Community Center at 5:30 p.m. The public can ask questions and make statements, according to a Port representative who spoke with Magnolia Voice.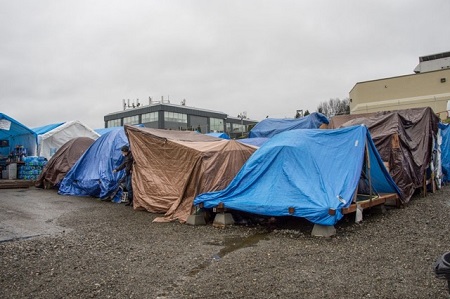 For more information email: homelessness@seattle.gov
NW Girlchoir Auditions
Join Northwest Girlchoir in September! For girls and young women who love to sing, Northwest Girlchoir has openings for new singers entering grades 1-12 to join in the fun this fall. Learn musicianship, vocal technique, and performance skills, all while building lasting friendships in a supportive community.
During the span of four decades, Northwest Girlchoir has empowered and inspired thousands of girls and young women in our region to lift their voices in chorus with others. Choristers perform for thousands of audience members at concerts held across the greater Puget Sound Region and on tours nationally and internationally.
Grades 1-2: Easy online registration is now open for girls entering grades 1-2 to join Prep Choir! Enrollment for Prep Choir is open online until Friday, September 22. Members learn music in a fun and nurturing environment as they prepare for exciting mainstage concerts. Sign up online here.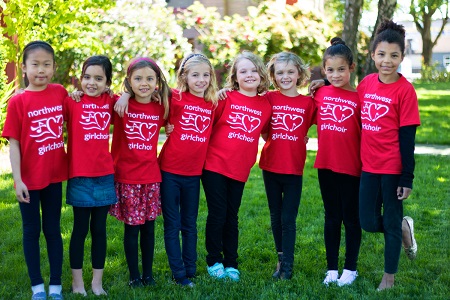 Grades 3-12: Fill out the Audition Request form by Monday, September 4 to join one of Northwest Girlchoir's five progressive-level choirs this season! Auditioned choir members enjoy performing at mainstage concerts, in the community and at special events, and even on tours. Learn more here.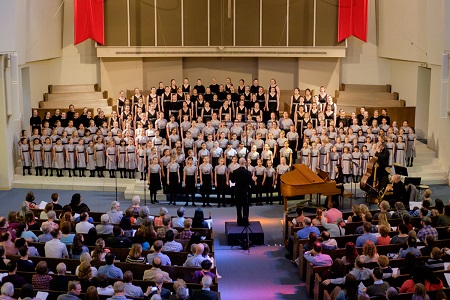 Financial aid is available for every choir level and they encourage families to apply.  Click here  for more information, or call the office at (206) 527-2900.