In town Thanksgiving weekend? Head to the Village for art and more
Posted on November 13th, 2017 by Sara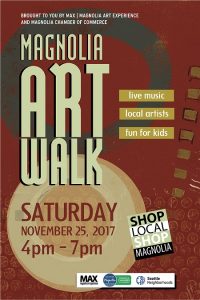 The Saturday after Thanksgiving–November 25th is Small Business Saturday, AND, at the end of the day (4 to 7 p.m.) Magnolia Village is sponsoring an Art Walk. In honor of both events, Magnolia's Bookstore is proud to welcome Molly Hashimoto, author and illustrator of Colors of the West: An Artist's Guide to Nature's Palate. Recently released by Mountaineers Books, this is a beautiful and special book.
As Brian Cantwell said in his Seattle Times review of the book, Molly took her pastime and made a life of it. She teaches at environmental institutes in Oregon, the North Cascades, and Yellowstone. She has a line of cards and calendars and has exhibited her art at galleries throughout the Northwest. This is not to be missed. Join Molly Saturday, November 25th from 4 p.m. to 6 for a book discussion and signing.
To thank all of the wonderful and loyal customers on Small Business Saturday, there will be treats all day, free Eat.Sleep.Read bags to the first 30 customers spending $50 or more, and a drawing for one of Molly's books at the end of the day.