Summerfest is coming!
Posted on August 4th, 2017 by Sara
Set-up is underway for one of Magnolia's favorite summer traditions!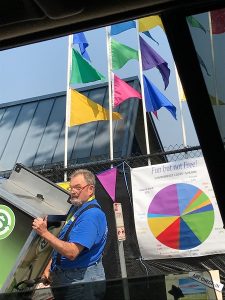 Summerfest starts TODAY at 3pm and goes through the weekend. We are so excited!  Tune into our Facebook page for live coverage of the parade and Summerfest fun. Be sure to check out the outdoor movie tonight (The Incredibles), live music, food trucks, arts and crafts booths, and tons of fun things for the whole family to do and see.
FRIDAY, AUGUST 4
3:00 – 11 pm Beer Garden
Food trucks
Main Stage entertainment:
3:00-3:20 pm Faith Pomms
3:30-4:00 pm Asta Wylie
4:00-4:30 pm Wyatt Olney & the Wreckage
4:45-5:15 pm Gaby DeSpain
5:30-6:00 pm Pebble N the Crick
6:15-7:00 pm Kimo Muraki
7:15-9:00 pm Soul Purpose
9:30 – 11 pm Outdoor movie: The Incredibles
SATURDAY, AUGUST 5
(Start: 34th Ave W & W Raye • Route: 34th – McGraw – 32nd)
Kids' Parade staging is at 9:45am, Saturday at the corner of 34th Ave W & W. Raye St. Wagons, bikes, costumes are encouraged. Must have a guardian present to sign a release form, available here.
10:00 am – 12 pm Seafair Parade
10 am – 11 pm Beer & Wine Garden
12 – 7 pm Food vendors
12 – 5 pm Baby/toddler playland & activities
12 – 5 pm Kids' crafts & games – FREE
12 – 7 pm Bouncy houses & hamster balls
9 am – 7 pm Vendor booths w/ Urban Craft Uprising
12:00 – 10 pm Main Stage entertainment
12:00-12:45 pm Quintessent Brass
1:00-1:45 pm Kristen Chambers
2:00-2:45 pm Robbie Christmas
3:00-3:45 pm Mary and the Rave
4:00-4:45 pm Kye Alfred Hilig
5:00-5:45 pm Rane Stone & JT Phillips
6:00-6:45 pm Wicked Shimmy
7:00-7:45 pm Motherofpearl
8:00-10:00 pm DJ Michael Neu
7:30 – 10 pm Teen Night
SUNDAY, AUGUST 6
10 – 11am Free Zumba workout on the playfield
9 am – 5 pm Vendor booths w/Urban Craft Uprising
11 am – 5 pm Main Stage entertainment
9:00 am Interbay Crossfit
10:00 am Zumba
11 am -12:00 pm Sunshine from Polynesia
12:00-1:00 pm Recess Monkey
1:00-1:30 pm Damien Jurado
1:40-2:10 pm 3rd Space Talent
2:15-3:30 pm TALENT SHOW
3:30-4:00 pm Magic Rich
10 am – 6 pm Beer & Wine Garden
10 am – 5 pm Food vendors
11 am – 5 pm Bouncy houses & hamsterballs
12 – 5 pm Baby/toddler playland & activities
12 – 5 pm (Free)Kids' crafts & games
4:30 pm Pet Parade & Awards