Arsonist hits same location twice
Posted on June 9th, 2017 by Sara
By reporter Steven Smalley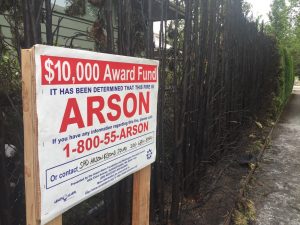 For the second time, an arsonist torched shrubbery adjacent to a home under renovation on the corner of 30th Avenue West and West Grover Street. Magnolia Voice reported the first fire here set May 12. Then last Thursday night at 10:30 p.m. an arsonist torched the same bushes some 50 feet east of the first fire. 

With seemingly similar fires occurring in Magnolia, particularly at the Magnolia Court Apartments on 32nd Avenue West near Albertson's, some neighbors are asking if we have a serial arsonist(s) working the area. Seattle Police say, no.

"We have no pattern of arson cases in Magnolia that I know of," says a police official in the bomb squad who spoke with Magnolia Voice. 

Neighbors we spoke with near the Grover Street fires are fearful, especially since an "Arson" sign was erected with the offer of a $10,000 reward. Seattle Police say it's not their sign. It reads: "Presented by the Arson Alarm Foundation and Washington Insurance Council."

A surveillance video taken from Albertson's shows older children running away from the fire on 32nd pointing and laughing, according to a report on KIRO 7. Seattle Police officials say they can not make the video available at this time citing laws regarding the protection of minors.

Anyone with pertinent information is asked to call the Bomb Squad at 206.684.8980.
One response to "Arsonist hits same location twice"