Make. Take. Host. And Show. When it comes to art, Westerly Studio offers all the above. 
Posted on May 18th, 2017 by Sara
Part studio, part gallery, space for hire and art classes to boot. Westerly Studio is an artist-run studio/gallery coming to the heart of Magnolia Village. A new creative hub where arts, crafts, classes and overall inspiration collide. There will be camps and workshops for all ages, a showcase and evolving collection of art by the founders and other local artists, and a place to host your own event, class or social gathering. Stay posted for open studio hours, new events and a well curated selection of goods for sale.
Westerly Studio believes that art and creative expression are more important than ever.  Founders Julie Jacobson, Greta Dutton and Beth Goodman (two previously of Gray Sky Gallery and one fabulous all on her own- think visual guru for West Elm, Crate and Barrel and more) all have backgrounds in art and design. While none are originally from the Northwest, each of them landed in our beloved Magnolia to live and raise their families. They love this special community with its small-town appeal just outside the buzzing Seattle metropolis. Their dream is to provide a creative space to congregate, experience art and most importantly have fun.  They know that participation in art significantly improve's a child's learning and development potential. And the sheer fun of being creative reduces stress for adults.
Westerly is kicking off the summer with kids art camps (sign up now!) where the kids will explore different mediums and techniques and come home with masterpieces to call their own.  See for yourself at westerlystudio.com.
Visit Westerly Studio at their open house Friday, June 16 (4-8pm).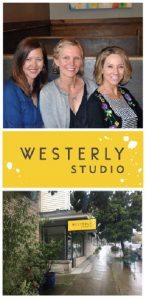 ·       Session 1. June 27 – 30  (Instructors Julie Jacobson and Beth Goodman)
·       Session 2. July 10 – 14  FULL
·       Session 3. July 17 – 21  (Instructors Julie Jacobson and Beth Goodman)
·       Session 4. August 21 – 25  (Instructors Julie Jacobson and Laura Van Horne)
·       Session 5. August 28 – September 1 (Instructors Julie Jacobson, Beth Goodman and Greta Dutton)