Vino in the Village March 31
Posted on March 20th, 2017 by Sara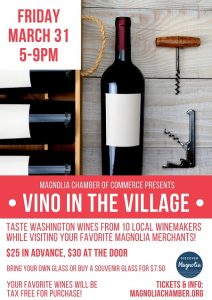 All (adults) are invited to meet up for?Vino in the Village,?Friday, March 31, from?5- 9pm. Sponsored by Magnolia's Chamber of Commerce, the evening will feature Ten venues in the Village, and?twelve different wineries.
The details:
$25 payment in advance online?until midnight March 30,?or $30 at the door.
Check-in at Peoples Bank at 4:30 pm for your wine tickets.
Bring your own glass or purchase a?commemorative?glass for $7.50 at check-in.
At the end of the evening, return to Peoples Bank to purchase bottles of your favorite wines tax-free!
Just a reminder all wine consumption must be indoors at the host merchants.
See you there!